NINTE Grille Cover For 2011-2016 Ford F-250 F-350 F-450 ABS Painted Grille overlay
Customers are viewing this product
NINTE Grille Cover For 2011-2016 Ford F-250 F-350 F-450 ABS Painted Grille overlay
Item Specifics
| | |
| --- | --- |
| Brand: | NINTE |
| Condition: | New |
| Color: | Chrome / Gloss Black |
| Fitment: | For Ford 2011 2012 2013 2014 2015 2016 F250 F350 F450 |
| Condition: | 100% Brand New Unused (Quality checked before shipping out) |
| Material: | Highest Quality ABS |
| Package: | 1 Set       |
| Attachment method: | Tape on |
| Warranty: | Yes |
Please click the link below to submit support file if you have any order issue , we will promptly reply in 24 hours (Business Day).

https://support.ninteshop.com/

For damaged/fitment issue, please fill and submit the support file within 3/30 days after receiving the item.
Important Notice
This item is NOT a grille replacement.

Without super duty logo on the surrounding cover.

This is grille cover tape on to your existing grille.
Please kindly check your car model and make sure the item fitment.

Please contact us when you received the product which have issues of fitment or damaged.

For damaged issue, please contact us within 3 days after receiving the item

For Fitment issue, please contact us within 30 days after receiving the item

For Return:
NON-authorized return is not accepted.
NON-defective item return will need buyer to return the item by themselves, return label will not be provides and cash on delivery is not approved.

Return item must be in original package box, which is in good condition for both package and products. So please don't throw the box before you confirm the product condition & fitment.
Installation Instruction
Step 1 Clean the surface which the item is to be applied, insure dry and free of all oil, grease and wax.

Step 2 Determine exact location of item.

Step 3 Remove protective film from adhesive, align carefully and then press firmly to insure proper adhesion.

Step 4 Do not move the item or wash your car within 24 hours after installation.
Note :
Technical specification installation.

There are double-sided automatic tape on the back of the article.

Waterproof, non-fading, non-rusting, do not affect car washing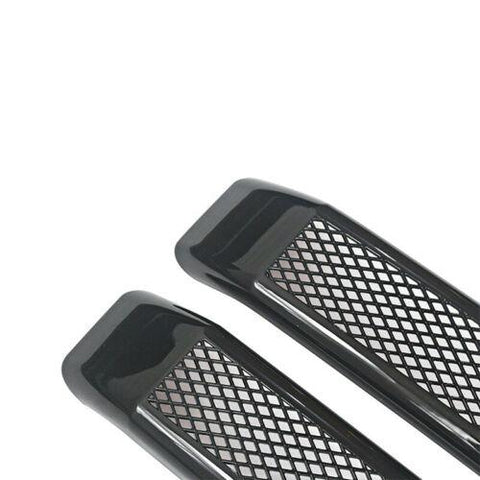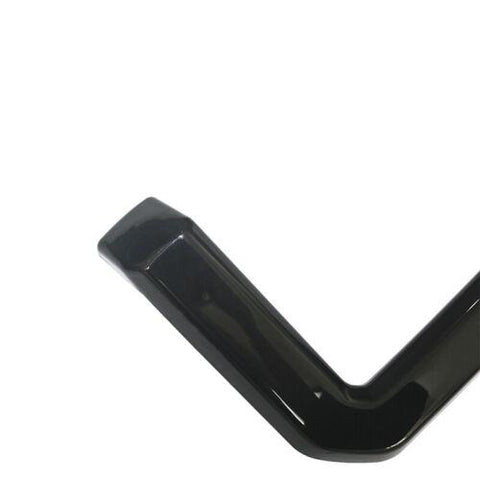 Fit more than one vehicles:
| | | | | |
| --- | --- | --- | --- | --- |
| Year | Make | Model | Trim | Engine |
| 2016 | Ford | F-250 Super Duty | King Ranch Crew Cab Pickup 4-Door | 6.2L 6210CC 379Cu. In. V8 FLEX SOHC Naturally Aspirated |
| 2016 | Ford | F-250 Super Duty | King Ranch Crew Cab Pickup 4-Door | 6.7L 6651CC 406Cu. In. V8 DIESEL OHV Turbocharged |
| 2016 | Ford | F-250 Super Duty | Lariat Crew Cab Pickup 4-Door | 6.2L 6210CC 379Cu. In. V8 FLEX SOHC Naturally Aspirated |
| 2016 | Ford | F-250 Super Duty | Lariat Crew Cab Pickup 4-Door | 6.7L 6651CC 406Cu. In. V8 DIESEL OHV Turbocharged |
| 2016 | Ford | F-250 Super Duty | Lariat Extended Cab Pickup 4-Door | 6.2L 6210CC 379Cu. In. V8 FLEX SOHC Naturally Aspirated |
| 2016 | Ford | F-250 Super Duty | Lariat Extended Cab Pickup 4-Door | 6.7L 6651CC 406Cu. In. V8 DIESEL OHV Turbocharged |
| 2016 | Ford | F-250 Super Duty | XL Crew Cab Pickup 4-Door | 6.2L 6210CC 379Cu. In. V8 FLEX SOHC Naturally Aspirated |
| 2016 | Ford | F-250 Super Duty | XL Crew Cab Pickup 4-Door | 6.7L 6651CC 406Cu. In. V8 DIESEL OHV Turbocharged |
| 2016 | Ford | F-250 Super Duty | XL Extended Cab Pickup 4-Door | 6.2L 6210CC 379Cu. In. V8 FLEX SOHC Naturally Aspirated |
| 2016 | Ford | F-250 Super Duty | XL Extended Cab Pickup 4-Door | 6.7L 6651CC 406Cu. In. V8 DIESEL OHV Turbocharged |
| 2016 | Ford | F-250 Super Duty | XL Standard Cab Pickup 2-Door | 6.2L 6210CC 379Cu. In. V8 FLEX SOHC Naturally Aspirated |
| 2016 | Ford | F-250 Super Duty | XL Standard Cab Pickup 2-Door | 6.7L 6651CC 406Cu. In. V8 DIESEL OHV Turbocharged |
| 2016 | Ford | F-250 Super Duty | XLT Crew Cab Pickup 4-Door | 6.2L 6210CC 379Cu. In. V8 FLEX SOHC Naturally Aspirated |
| 2016 | Ford | F-250 Super Duty | XLT Crew Cab Pickup 4-Door | 6.7L 6651CC 406Cu. In. V8 DIESEL OHV Turbocharged |
| 2016 | Ford | F-250 Super Duty | XLT Extended Cab Pickup 4-Door | 6.2L 6210CC 379Cu. In. V8 FLEX SOHC Naturally Aspirated |
| 2016 | Ford | F-250 Super Duty | XLT Extended Cab Pickup 4-Door | 6.7L 6651CC 406Cu. In. V8 DIESEL OHV Turbocharged |
| 2016 | Ford | F-250 Super Duty | XLT Standard Cab Pickup 2-Door | 6.2L 6210CC 379Cu. In. V8 FLEX SOHC Naturally Aspirated |
| 2016 | Ford | F-250 Super Duty | XLT Standard Cab Pickup 2-Door | 6.7L 6651CC 406Cu. In. V8 DIESEL OHV Turbocharged |
| 2016 | Ford | F-350 Super Duty | King Ranch Crew Cab Pickup 4-Door | 6.2L 6210CC 379Cu. In. V8 FLEX SOHC Naturally Aspirated |
| 2016 | Ford | F-350 Super Duty | King Ranch Crew Cab Pickup 4-Door | 6.7L 6651CC 406Cu. In. V8 DIESEL OHV Turbocharged |
| 2016 | Ford | F-350 Super Duty | Lariat Cab & Chassis 4-Door | 6.2L 6210CC 379Cu. In. V8 FLEX SOHC Naturally Aspirated |
| 2016 | Ford | F-350 Super Duty | Lariat Cab & Chassis 4-Door | 6.7L 6651CC 406Cu. In. V8 DIESEL OHV Turbocharged |
| 2016 | Ford | F-350 Super Duty | Lariat Crew Cab Pickup 4-Door | 6.2L 6210CC 379Cu. In. V8 FLEX SOHC Naturally Aspirated |
| 2016 | Ford | F-350 Super Duty | Lariat Crew Cab Pickup 4-Door | 6.7L 6651CC 406Cu. In. V8 DIESEL OHV Turbocharged |
| 2016 | Ford | F-350 Super Duty | Lariat Extended Cab Pickup 4-Door | 6.2L 6210CC 379Cu. In. V8 FLEX SOHC Naturally Aspirated |
| 2016 | Ford | F-350 Super Duty | Lariat Extended Cab Pickup 4-Door | 6.7L 6651CC 406Cu. In. V8 DIESEL OHV Turbocharged |
| 2016 | Ford | F-350 Super Duty | XL Cab & Chassis 2-Door | 6.2L 6210CC 379Cu. In. V8 FLEX SOHC Naturally Aspirated |
| 2016 | Ford | F-350 Super Duty | XL Cab & Chassis 2-Door | 6.7L 6651CC 406Cu. In. V8 DIESEL OHV Turbocharged |
| 2016 | Ford | F-350 Super Duty | XL Cab & Chassis 4-Door | 6.2L 6210CC 379Cu. In. V8 FLEX SOHC Naturally Aspirated |
| 2016 | Ford | F-350 Super Duty | XL Cab & Chassis 4-Door | 6.7L 6651CC 406Cu. In. V8 DIESEL OHV Turbocharged |
| 2016 | Ford | F-350 Super Duty | XL Crew Cab Pickup 4-Door | 6.2L 6210CC 379Cu. In. V8 FLEX SOHC Naturally Aspirated |
| 2016 | Ford | F-350 Super Duty | XL Crew Cab Pickup 4-Door | 6.7L 6651CC 406Cu. In. V8 DIESEL OHV Turbocharged |
| 2016 | Ford | F-350 Super Duty | XL Extended Cab Pickup 4-Door | 6.2L 6210CC 379Cu. In. V8 FLEX SOHC Naturally Aspirated |
| 2016 | Ford | F-350 Super Duty | XL Extended Cab Pickup 4-Door | 6.7L 6651CC 406Cu. In. V8 DIESEL OHV Turbocharged |
| 2016 | Ford | F-350 Super Duty | XL Standard Cab Pickup 2-Door | 6.2L 6210CC 379Cu. In. V8 FLEX SOHC Naturally Aspirated |
| 2016 | Ford | F-350 Super Duty | XL Standard Cab Pickup 2-Door | 6.7L 6651CC 406Cu. In. V8 DIESEL OHV Turbocharged |
| 2016 | Ford | F-350 Super Duty | XLT Cab & Chassis 2-Door | 6.2L 6210CC 379Cu. In. V8 FLEX SOHC Naturally Aspirated |
| 2016 | Ford | F-350 Super Duty | XLT Cab & Chassis 2-Door | 6.7L 6651CC 406Cu. In. V8 DIESEL OHV Turbocharged |
| 2016 | Ford | F-350 Super Duty | XLT Cab & Chassis 4-Door | 6.2L 6210CC 379Cu. In. V8 FLEX SOHC Naturally Aspirated |
| 2016 | Ford | F-350 Super Duty | XLT Cab & Chassis 4-Door | 6.7L 6651CC 406Cu. In. V8 DIESEL OHV Turbocharged |
| 2016 | Ford | F-350 Super Duty | XLT Crew Cab Pickup 4-Door | 6.2L 6210CC 379Cu. In. V8 FLEX SOHC Naturally Aspirated |
| 2016 | Ford | F-350 Super Duty | XLT Crew Cab Pickup 4-Door | 6.7L 6651CC 406Cu. In. V8 DIESEL OHV Turbocharged |
| 2016 | Ford | F-350 Super Duty | XLT Extended Cab Pickup 4-Door | 6.2L 6210CC 379Cu. In. V8 FLEX SOHC Naturally Aspirated |
| 2016 | Ford | F-350 Super Duty | XLT Extended Cab Pickup 4-Door | 6.7L 6651CC 406Cu. In. V8 DIESEL OHV Turbocharged |
| 2016 | Ford | F-350 Super Duty | XLT Standard Cab Pickup 2-Door | 6.2L 6210CC 379Cu. In. V8 FLEX SOHC Naturally Aspirated |
| 2016 | Ford | F-350 Super Duty | XLT Standard Cab Pickup 2-Door | 6.7L 6651CC 406Cu. In. V8 DIESEL OHV Turbocharged |
| 2016 | Ford | F-450 Super Duty | King Ranch Crew Cab Pickup 4-Door | 6.7L 6651CC 406Cu. In. V8 DIESEL OHV Turbocharged |
| 2016 | Ford | F-450 Super Duty | Lariat Cab & Chassis - Crew Cab 4-Door | 6.7L 6651CC 406Cu. In. V8 DIESEL OHV Turbocharged |
| 2016 | Ford | F-450 Super Duty | Lariat Cab & Chassis - Extended Cab 4-Door | 6.7L 6651CC 406Cu. In. V8 DIESEL OHV Turbocharged |
| 2016 | Ford | F-450 Super Duty | Lariat Crew Cab Pickup 4-Door | 6.7L 6651CC 406Cu. In. V8 DIESEL OHV Turbocharged |
| 2016 | Ford | F-450 Super Duty | XL Cab & Chassis - Crew Cab 4-Door | 6.7L 6651CC 406Cu. In. V8 DIESEL OHV Turbocharged |
| 2016 | Ford | F-450 Super Duty | XL Cab & Chassis - Crew Cab 4-Door | |